Challenge Participant Blog
The Food Stamp Challenge has concluded.
Thank you so much to all who participated. If you did not participate, that doesn't mean you still can't take the challenge on your own time, but don't forget to let us know how it goes!
Challenge Main Page ● Participant Profiles ● Participant Blog ● Guidelines & Helpful Tools
---
The three days I participated in the Food Stamp challenge…
By: Jenn Preston, Lawrence-Douglas County Health Department 11/25/13 (Copied from the Health Department's Website)
The three days I participated in the Food Stamp challenge proved to be both insightful and disappointing.
As a social worker who has worked with folks who receive food stamps for more than 10 years, I made the rash assumption that I wouldn't gain many new insights. The insights I gained included being more creative in my meal preparation and a deeper empathy and respect for those that depend on food stamps.
I really didn't think it was possible to eat three meals at $3.96 per day. Breakfast generally consisted of two slices of toast with butter and jelly, coffee with creamer and either an apple or small batch of grapes. For lunch and dinner, I made some type of scramble with eggs, sweet potato and either cauliflower or broccoli. I did also include a small portion of yummy dessert — oatmeal chocolate chip cookies. A $2 package of Better Crocker mix combined with one stick of butter and one egg divided into 35 cookies came to 9 cents per cookie.
On the evening of the second day, I realized I had miscalculated the cost of my coffee. I had 38 cents extra at the end of the day. Oh boy … I then proceeded to eat an extra egg and two extra cookies!
The disappointments were the inevitable judgment that tends to rear its head when government assistance is being discussed. People continue to unfairly and harshly judge those who utilize food stamps. Gross stereotypes of the people who abuse assistance stay in the forefront of people's minds and they hang on to this stereotype in order to argue against the effectiveness of programs such as food stamps. It seems much easier for people to jump to judgment. What can make people transcend judgment to better connect with compassion? I think one way is to get to know and better understand poverty and the people experiencing poverty in America. The type of people that represent more of the majority of Americans on food stamps and not those few extreme examples of people abusing the system.
I applaud Linda Tirado for being brave enough to share her story of what life is like in poverty and on food stamps. Here's her story, "This is why poor people's bad decisions make perfect sense."
---
A better appreciation of the daily struggles and the stress…
By: Judy Farmer 11/24/13
Menu for 5 days:
Breakfast: oatmeal and boiled eggs, every day
Lunch:
Day1: brown rice, black beans and rotel, raw carrots & celery, 1/2 oz. dark chocolate.
Day2: brown rice, chicken breast, steamed fresh cauliflower and broccoli.
Day 3: same as Day 1.
Day 4: Tortilla, fat free refried beans, 1 oz. cheese, 1/2 small avocado.
Day 5: Romaine lettuce salad with chicken breast with dressing, baked sweet potato.
Dinner:
Day 1: baked tilapia , romaine lettuce salad with dressing, baked sweet potato.
Day 2: tortilla with fat-free refried beans, 1 oz. cheese, 1/2 small avocado, raw carrots & celery.
Day 3: baked tilapia, brown rice, steamed broccoli and cauliflower, 1/2 oz. dark chocolate.
Day 4: chicken breast, brown rice, romaine lettuce salad with dressing, 1/2 oz. dark chocolate.
Day 5: tortilla with fat-free refried beans, 1 oz. cheese, steamed broccoli and cauliflower, 1/2 oz. dark chocolate.
Snacks: mid-morning and mid-afternoon each day: 1 banana, orange or apple.
Beverages: 1 can diet coke each day, and unlimited tap water.
Splurges: diet coke, dark chocolate, tilapia, avocado.
What I went without: either a second can of diet pop or a cup of coffee with creamer, other "extras" that I couldn't afford in the budget like spices, sour cream, salsa, salad toppings such as fresh tomatoes, cucumbers, radishes, processed foods, etc.
My overall expenditures came to $19.76, just shy of the $19.80 maximum allowance. I felt like my menu was overall quite healthy, but a little bland and repetitive. At times I was hungry and wished I had the ability to grab additional food at will, but I had no flexibility in the budget, so I did not have the luxury to do this. I felt deprived and stressed at times. It took A LOT of time and planning to fit healthy foods into a very limited budget, but it is doable with MUCH planning, cooking, and very strict portion control. I am very thankful that I have ample resources and don't have to live like this continually as those with limited resources have to do. I feel like I have a better appreciation of the daily struggles and the stress which accompanies a life with restricted resources and more respect and admiration for those who find themselves in this restrictive situation.
---
Friday during Food Stamp Challenge
By: Jan Pool 11/23/13 (View her entire Youtube Channel)

---
SNAP Challenge, Day Five #JFSnapChallenge
By: Kris Adair 11/23/13 (Copied from Kris's blog: In the Kitchen with Audrey)
It is the last day of our challenge. We have not fared well. Day four was near impossible for us to stick to our menu. I had a business breakfast that meant I was not eating at home. Maurene refused all lunches offers except an apple and the girls were too enthralled with a movie before a school sleepover to eat dinner. Audrey ended up eating half a PB&J but Maurene had nothing that was not provided at her school after I dropped them off.
I attended a fundraiser for a friend's new catering company benefiting the food bank we have partnered with for our SNAP challenge. When I showed up I was teased about breaking my challenge with gourmet foods and French wines. It was not a good day for our challenge. I hope even though we have not been good about sticking to our budget we are still showing how hard it is to live on such a small food allotment.
One idea my husband had when we started this challenge was to make a food donation monthly. We use Amazon Subscribe & Save for dry goods and toiletries. It helps us not have to remember to purchase items we need all the time and we also get a discount for bulk purchases. My husband signed up to have a monthly shipment of canned fruit delivered to our local food bank. We are helping with a small donation but it is so easy we never have to think about it. If you use Amazon at all I encourage you to look into setting up a monthly donation of this type.
Since we had such a hard time at the end of the challenge we decided to sign up to help a little with Thanksgiving at our local food bank. The girls and I are baking two pies for those receiving a hot meal. Audrey and I are also going to help pass out the food on Wednesday. My purpose for involving my girls in this challenge was for them to understand the challenges people can face if they are receiving SNAP assistance. I also want them to understand these are real people and it could be anyone they know. We don't have much but we want to do what we can to help.
If you live in our area I invite you to make a small monetary donation to Just Food, volunteer to pass out food Wednesday, or bake a pie (we will pick it up and deliver).
Those who are not local I invite you to help in your area. There are food banks all over the United States helping those in need.
A picture Audrey took of us on our trip Wednesday.
Mo took this picture of her sister on our trip.
These girls are why I wanted to participate in this challenge. I want my girls to understand we are all people and to help those in need.
---
Thoughts from the Food Stamp Challenge
By: Cyndy Harnett 11/23/13
I really learned more about my own eating and shopping habits than anything else. During the challenge, I became more mindful of eating and how fast I eat.  I slowed down and appreciated each meal. I also realized that I had been stopping by grocery stores too often and buying too much. It really was a shopping habit.  These "aha" moments are sticking with me post challenge. It was a great way to shake up my normal food habits!
I will say that part of my plan for the challenge included getting Linda Watts & Thad Holcombe as my "challenge buddies." I knew that if I was craving snacks, I could contact them. I also knew that if I cheated, I would feel obligated to report to them. It was fun to touch base about the challenge.
Thank you for having the challenge.  I am certainly glad that I did 5 days.
SNAP Challenge, Day Four #JFSnapChallenge
By: Kris Adair 11/22/13 (Copied from Kris's blog: In the Kitchen with Audrey)
As we go into day four I have to admit the food has not been the challenging part of this challenge. I have missed most the little things. Like a small piece of chocolate or a glass of wine. My girls wanted honey for their cornbread. They also want a piece of pie after dinner. We all would like to live on more than $4 a day.
On to our grocery list. These are the items I purchased and the prices I paid. After I did all my shopping, meal planning and most of our meals I learned that on food assistance we would not have to pay sales tax. This would leave a little more room in our budget for more bananas for my youngest and maybe ingredients for a pie for dessert.
Checkers
Oats 2.15
Apple Jelly 1.59
Peanut Butter 1.56
Garlic .22
Peanuts .30
Black Beans .99
Pineapple, crushed .99
Frozen Orange Juice 1.49
Frozen Cauliflower 1.89
Oil 1.88
Raisins 1.95
Cornmeal 1.27
Ro-tel .99
Vinegar .99
Aldi
Flour 1.19
Sugar 1.66
Baking Powder .99
Apples 1.88
Bananas .71
Onions 1.69
Canned Tomatoes (2) 1.98
Tomato Paste .39
Navy Beans (2) 1.18
Chili Beans .59
Chili Powder .99
Cinnamon .99
Italian Seasoning .99
Bread .99
Cocoa Powder 2.19
Tortillas .99
Soy Milk 2.29
Mushrooms (2) 2.98
Frozen Peas .95
Frozen Corn .95
Carrots .99
Celery .59
Apple Sauce 1.49
Spaghetti 1.49
Pasta Sauce 1.49
Brown Rice .67
Canned Pumpkin .89
Salt .39
Natural Grocers
Soy Butter 2.99
Day Three, Audrey's breakfast to go
Day Three, breakfast for Mo is easy.
Day Three, lunch to go.
Day Three, look, mirepoix!
Day Three, Black Bean Soup with cornbread.
Day Three, cornbread is well received.
Day Three, they were hungry.
We got right back on the horse and only ate food on our menu within our budget. Day three was a little harder because we joined friends at a play date. Normally at the play date we enjoy fast food and I have a nice cup of coffee. This time my girl friends enjoyed a yummy meal of noodles from Ramen Bowl and their children munched on chicken nuggets. Maurene and I packed our lunches and I was not able to warm my hands by wrapping them around a warm mug while my friends and I chatted. My girl friends felt bad about eating noodles in front of me.
Dinner was Black Bean Soup with cornbread. I found it very enjoyable but the girls stuck mostly to the cornbread. After they tried several bites of the black bean soup they begged for slices of pumpkin bread with butter.
We will see how well breakfast goes today. I planned rice pudding but the girls are still learning to like rice. Maybe with enough milk, cinnamon and sugar it will appeal?
Tomorrow I will share more recipes and ways you can help.
---
For me, the "Food Stamp Challenge" is over
By: Karrey Britt, Lawrence-Douglas County Health Department 11/22/13 (Copied from the Health Department's Website)
For me, the "Food Stamp Challenge," is over but its impact will be long lasting. After living on $4 worth of food for four days, I have a new appreciation for a lot of things.
Another reason for participating in the Challenge was to raise awareness about hunger, poverty and the need for Just Food, the Douglas County food pantry.
It worked.
The Challenge sparked many, many conversations about food and poverty with friends, family, colleagues and complete strangers.
This morning, I had the privilege of talking about the Challenge on Hank Booth's KLWN radio show alongside my colleague Chris Tilden. Personally, we both strive to eat nutritious foods, and honestly, we were a little competitive when it came to the Challenge. What we both quickly learned is that it's tough to eat on a tight budget — let alone healthy.
This Thanksgiving, I have a lot to be thankful for.
---
SNAP Challenge, Day Three #JFSnapChallenge
By: Kris Adair 11/21/13 (Copied from Kris's blog: In the Kitchen with Audrey)
If you are paying close attention you noticed there was no post yesterday. We cheated. My husband's grandmother was moved to hospice care to live the last weeks of her life and we drove four hours to Des Moines to say our goodbyes. I did not think it was a good day to try to find food in a gas station or fast food restaurant to stay in our budget so we took the day off.
Not really a valid challenge if you can just go back to your $10 (ok, it was really $14) impulse purchase of candy bars, ice cream sandwiches and beverages at a gas station to hold the four of us over for the four hour drive home. My husband asked as we pulled out of the parking lot how I was doing with the challenge today and I just gave him a snarky grin. He is not participating with us this week.
So let's talk about how the meals from day two went and share some recipes. Tomorrow I will lay out the entire shopping list and show where we made our purchases. I will also share some of the decisions we had to make and what we decided to sacrifice.
Day two breakfast, made the night before.
Day two breakfast, warm and filling.
Day two breakfast, with OJ.
Day two dinner, mirepoix again.
Day two lunch, PB is the best part.
Day two dinner, mirepoix again.
Day two dinner, African Peanut Stew.
Day two dinner, with cornbread.
Audrey and Maurene both eat breakfast at home and then Audrey heads to school. A school-age child receiving food assistance would qualify for free lunch and, in the case of Lawrence Public Schools, have access to a free breakfast as well. Audrey eats lunch provided by school but Maurene eats at home with me before she goes for her half day of preschool. They both have a small snack at school before I pick them up but almost always want another snack before dinner. We almost always eat dinner together. This week my husband has been making other accommodations for himself for dinners.
 Now for some recipes!
Chocolate Peanut Butter Oatmeal
1/2 cup oats, rolled or instant, we like rolled
1 tbsp peanut butter, creamy is what we like
1/2 tbsp cocoa powder
1/2 cup water, boiling
1-2 tsp sugar or honey, to taste
Place all ingredients in a bowl and stir. Let it sit for 5 minutes or so to allow the oats to soften. It is even easier to mix all ingredients and place in a sealed container in the fridge overnight.
Tropical Oatmeal
1/2 cup oats, rolled or instant
1/2 cup crushed pineapple in juice
1/4 cup pineapple juice
Place all ingredients in a bowl and stir. Let it sit for 5 minutes or so to allow the oats to soften. We like to serve this version chilled. If we are not participating in a SNAP Challenge we add 1/4 cup shredded coconut for a more tropical taste.
 Better Than a Jar Spaghetti Sauce
1/2 onion
1 carrot
1 celery stalk
1 tbsp oil
1 clove garlic
1 jar cheap pasta sauce
1 tbsp Italian seasoning
Chop onion, carrot, and celery. Saute in 1 tbsp of oil over medium heat. If veggies dry out before they have softened, as is often the case with me, add water to the pan 1 tbsp at a time to continue water saute. After about 3-4 minutes add minced garlic and continue to saute for another 2 minutes. Add jar of sauce and seasoning and reduce heat to simmer. In the mean time cook pasta. Once pasta is finished toss with sauce. Add salt as desired for taste.
African Peanut Stew
1/2 onion
1 carrot
1 celery stalk
1 tbsp oil
1 clove garlic
28 oz can chopped tomatoes
1/2 cup creamy peanut butter
6 oz can of tomato paste
3 cups water
2 cups cooked rice
1/4 cup chopped peanuts, if desired
Chop onion, carrot, celery and saute in 1 tbsp of oil over medium heat. Add water as necessary. After 3-4 minutes add minced garlic and saute another 2 minutes. Add tomatoes, tomato paste, peanut butter, and water. Reduce to simmer and heat 20 minutes. Add rice to last 10 minutes of cooking time if cold. Stir and serve with a little chopped peanuts.
Basic Muffin Recipe
2 cups grains ( we used 1 1/2 cup flour and 1/2 cup rolled oats usually)
2 tsp baking powder
1/2 tsp salt
1 cup liquid, soy milk this week
1/2 cup sugar
1/4 cup melted butter or oil
1/2 cup to 1 cup additions
Stir together dry ingredients in a medium bowl. Add liquid, sugar, and oil and stir until just combined. This week we added about 3/4 cup canned pure pumpkin and 1 tbsp cinnamon. Stir until just combined. Pour batter into greased or lined 12 cup muffin tin and bake at 350 degrees for 25-30 minutes. This recipe works well with so many flavor combos. We are enjoying pumpkin, sweet potato and butternut squash these days. Use your imagination!
I will share a few more recipes tomorrow as well.
---
Day 4′s Lessons
By: Boog Highberger 11/21/13
DAY 4
Breakfast: Granola (with less yogurt than last time): $0.54
Lunch: The last of the tuna salad on one slice of bread, more split peas & rice,1 measly oz. of corn chips, $1.92
Supper: Lentil soup (the third time's the charm), $1.16
Snack: Popcorn with butter & nutritional yeast (OK, I admit it, I went wild and ate the whole batch), $0.60
Total: $4.22
I was over budget for the day again, but squeaked in under budget for the last 4 days at $15.51 (the limit was $15.84). It seemed like cheating to splurge on a snack because my 4-day commitment was coming
to an end, and I didn't have to worry about saving some room in the budget for Thanksgiving. Everything that I ate this week except the tuna salad sandwich ingredients were from the Community Mercantile, and most of that was local and/or organic. I was never hungry, but I did sometimes reduce portions from what I would normally eat. This exercise has made me much more conscious of the cost of what I eat, and has helped me come closer to understanding the challenges facing our fellow citizens who are struggling to feed their families every day.
TODAY'S LESSONS:
1. It is possible to eat affordably with high-quality ingredients (if you have lots of time to plan and cook).
2 Living on $3.96 a day is a lot easier for just 4 days than doing so all the time.
---
Food Stamp Challenge, Day 2
By: Jeremy Farmer 11/21/13 (Copied from Jeremy's Blog: Hunger Games)
I started the morning yesterday with a banana. I didn't eat lunch. Those of you who know me also know that I try to schedule meetings around the lunch hour when Just Food is closed, and quite frankly, I have been embarrassed to have lunch meetings and just show up and drink water. How many times do families who are struggling with food get invited out to eat and decline hanging out with people, or meeting with them, knowing the only thing they could afford on the menu is water, knowing that they'll have to watch people eat and not have anything.
I also wanted to address something that someone brought up yesterday. We used to live in a culture where if you needed sugar, or flour, you could just walk next door to your neighbor and ask them. Most people don't even know who their neighbors are, or their names, or what they do. I will say that camaraderie exists more in low-income neighborhoods than in other neighborhoods, and I see it all the time.
As I shopped last night again for another news crew, I went a different route for my lunches. Obviously, I wasn't going to alter my plans for this week, but if I had to do it over again, I would have eaten ham sandwiches for lunch. These weren't any crazy ham sandwiches, it was bread and Buddig ham. I didn't have enough money during that shopping experience for mayo. And the reporter asked me, "couldn't you just go next door and ask your neighbor for mayo?"
I thought about that for a bit. And frankly, I could go next door to ask my neighbor for mayo. But I wouldn't. It's not because I don't know my neighbors, nor is it because they wouldn't give it to me. They probably would unquestionably. But I wouldn't for fear of being asked the question, "sure, ran out of mayo, eh?" And then I would have to tell them. I couldn't afford it. The prospect of having to go through that shame and embarrassment is enough to keep me from going and asking the question. This week is obviously a simulation and it can't come close to realizing what people who really struggle to put food on their table feel like. There are things we can't simulate. The shame. The guilt. The embarrassment of having your vision card declined because you purchased too many items. Everyone can see you used a food stamp card. Everyone knows that you didn't have enough for that item, and now you have to put something back. And then, what do you put back? Those are decisions that people have to constantly make.
Back to dinner last night. I made whole wheat spaghetti noodles with a can of meat sauce and a half pound of hamburger. It's been awhile since I had sauce out of a can. It wasn't very good. It was bland. It didn't taste very good, but at least I had vegetables, protein and grains in a meal. It was more filling than the rice I had the night before, and I wasn't nursing a horrible headache when I woke up this morning.
I'm learning that it is not only expensive to eat healthy (it doesn't have to be if you know how, and the resources to plan, time to prepare and shop and cook), but the food that most people eat because it's cheap is food that is loaded with fat, and not very tasteful.
Tonight is going to be tacos. I have a taco seasoning packet and some tortillas. (I originally thought I was going to have to make a baked potato, but I think I have enough meat left). But, I have no cheese, no salsa, no lettuce, and nothing to make the meat taste good other than the seasoning packet, which is loaded in sodium.
I guess I could go ask my neighbor for some taco accouterment…
---
5th day of the Food Stamp Challenge…
By: Jan Pool 11/21/13 (View her entire Youtube Channel)
---
Spent a total of $58.79…
By: Carol Belzer, Director Cornerstone Food Pantry 11/20/13
I'm not going to editorialize on the SNAP program it seems to have been covered very well by others.
I did my shopping last Friday, because I had a $10 coupon that was going to expire. I shopped at Aldi's but then I always do, so know their store well.  And, I price matched at Walmart so I didn't have to go any other stores.  The only processed food I bought was the brownie mix.  Aldi's has the best brownie mix and only $1.29.  We like a little whipped topping with our desserts .79 cents.  I know, I know it's bad but it tastes so good.
Also, discovered we are creatures of habit, so some things had to stay the same.
Breakfast is pretty much set in stone.  Hubby has an English muffin, oatmeal, juice and coffee, son has 3 eggs, sometimes on a muffin.  This week he decided to add cheese which was intended for other meals.  I'm more daring, this week I'm having a muffin and yogurt, but sometime I have cereal and banana.  I live on the edge!  Grandson eats at preschool but sometime has a bowl of cereal and milk. Figured the cost of breakfast at $2.24 a day of total of $11.20.
Son's lunch is provided at his work and grandson eats at preschool.   Hubby and I eat leftovers or a sandwich. This week I made egg salad for sandwiches and bought carrot sticks to go with it.  NO CHIPS :(  Cost $1.49 for week
Monday Dinner
Goulash
Corn on the cob
Salad w/ Tomato
Corn Muffin
Brownie w/ Whipped Topping
Cost $6.21
Tuesday Dinner
Chicken
Buttered Noodles
California Blend Vegetables
Chocolate Pudding
Cost $6.15
Wednesday Dinner
Potato Soup & fixings
Hard Crust Bread
$5.67
Thursday Dinner
Pork Chops
Baked Sweet Potatoes
Cinnamon Apples
Bread Pudding
Cost $7.23
Friday Dinner
Teriyaki Chicken
Rice
Grilled Pineapple
Cost $8.54
Snacks
Apples
Pineapple
Left over Brownies
Extra Muffins
Bananas
Graham crackers
I used some staples that I had on hand but counted them in the cost.  I had flour, sugar, coffee, peanut butter, oatmeal, Raisin Bran and oil.
I spent a total of $58.79 – $10.00 coupon=$48.79  + 5.37 (what I used from my staples) Total spent to date $54.1.
Going to store tomorrow to replace cheese son used– cost $2.99.  Can I live on SNAP resources.  Yes, I can.  Do I want to? No I do not because there's not a coke anywhere in this weeks menu.  No Ice cream for my grandson's favorite treat.  And, I think I strained  my brain trying to figure this out. It was very difficult to stay under budget.  We will eat pretty well (high on carbs but winter veggies are more carbs than summer) but there were no extras. Could I have done it for 2 people? Nope.  I could have added a few things but wanted a little cushion in case we run out of milk or coffee (yikes).   It has been interesting, I would not want to put that much thought into each weeks meals.  I had to do that when hubby was in school and we had 3 kids at home.  It wasn't fun to have to watch every penny and make a casserole out of a 1/4 lb of hamburger.  Wasn't the good old days it was the hard old days.
I'm so glad that Lawrence has some really good resources that can help make it a little easier for the families in our community.  Glad our churches food pantry is one of them.
---
Food Stamp Challenge Day 3: Did This Meal Really Cost Me 89 Cents?
By: Marilyn Hull 11/19/13 (Copied from Wellcommons Entry)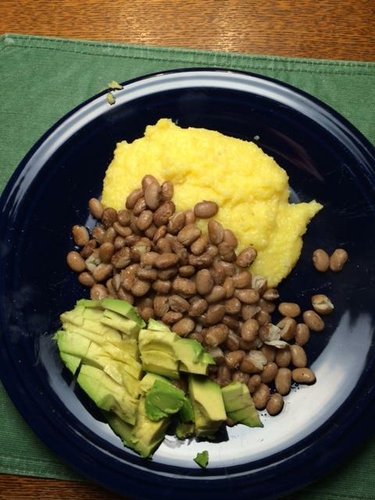 I was pretty proud of myself for putting together this delicious, nutritious and filling meal of polenta, pinto beans and avacado for 89 cents. Until I realized that it might have cost me more.
Let's start with the costs of the ingredients.
Polenta: 20 cents. Bought dry in the Merc's bulk department, cooked with water and salt.
Pintos: 21 cents. Bought dry in the Merc's bulk department, cooked with water and salt.
Half avocado: .48 cents. Bought at Checkers.
That's how I got to 89 cents.
Then I started thinking. What advantages did I have that allowed me to make this very affordable meal?
For starters, I have a fully equipped kitchen, including the pricey pressure cooker I used for the beans. Then there's the car I used to drive to two different grocery stores to get the ingredients, the Merc cooking class that introduced me to cooking polenta, and the gas in my stove that turns on because my husband pays the bill religiously. You see where I'm going with this.
A few years back I went to a seminar called "Bridges out of Poverty." One thing we talked about is the danger of judging the decision-making of people in poverty from a middle-class frame of reference. In fact, our daily realities are very different. I take so many things for granted that the typical SNAP cardholder cannot access.
Today I am grateful for all of the things I have that make it possible for me to make a simple, affordable meal I feel good about eating.
On Thanksgiving, as we cut into the pasture-raised, hormone- and antibiotic-free sixteen pound fresh turkey that I will pay through the nose for, I'll be counting my blessings–both those I'm aware of and those that are invisible to me.
---
I am about halfway through my five-day participation…
By: Chris Tilden, Lawrence-Douglas County Health Department 11/20/13 (Copied from the Health Department's Website)
I am about halfway through my five-day participation in the "Food Stamp Challenge" and it has, indeed, been a challenge … even though I think I have broken the rules of the Challenge a few times already. In two instances, for example, I have eaten food other than what I bought for the Challenge. In both cases I had been running back and forth between meetings and realized it would be a LONG TIME before I had the chance to eat. Last night I didn't get home from meetings until after 8 p.m. and so, when I was at a 6:30 p.m. meeting where sandwiches were offered, I succumbed and ate one of them. I tried to honor my participation in the Challenge by passing on the turkey and eating only bread and cheese, since I knew I could not afford to buy any meat on my SNAP allotment.
So, why did I eat that bread and cheese? The simple answer: I knew I would be very hungry by 8 p.m.
Unfortunately, there are people in our community who do go hungry, and many do not have a ready solution for their hunger. I now appreciate just a little bit more what that feels like, and I also feel fortunate for the security I feel (and often take for granted) about knowing where my next meal will come from.
---
Today is the last day of the "Food Stamp Challenge"
By: Aundrea Shafer, Lawrence-Douglas County Health Department 11/20/13 (Copied from the Health Department's Website)
Today is the last day of the "Food Stamp Challenge" for me. It has been an incredibly hard endeavor over the three days and has left me with a greater understanding of what it's like to be in someone else's shoes.
The pre-planning to start the Challenge alone took me almost three hours to complete. I started off by making a list of ideas of affordable dinners and then went online to price everything. If something was more than I thought it was, it was removed from the shopping list, which decreased my options.
What I found the best solution to be was to prepare rollover meals. In other words, buy items that can be used in a variety of options and not feel as if I am eating the same thing over and over. The great majority of items within my cart were pantry staples: brown rice, dried black beans, two cans of vegetable broth, tortillas, eggs, a block of cheese, frozen chopped spinach, mushrooms, penne pasta shells, a can of tomatoes, an avocado, five apples and a loaf of French bread. I had purchased just enough food to get my husband and I by for three days.
The first day there were several issues I ran into. For instance, the black beans had to be rinsed then soaked for eight hours which was done overnight. However, the cooking of the beans took over 2 hours, which meant we were unable to eat until almost 9 p.m. and the beans were still semi-hard when we ate them. Other issues we ran into also dealt with time. Without the proper time to cook and prepare foods you were left with absolutely nothing to eat. SNAP benefits do not allow you to grab and go and therefore I had to make the time to prepare meals ahead of time.
There are a number of advantages we had throughout the SNAP Challenge. One example is Internet access. I have a computer and unlimited Internet access which allows me to have unlimited time and the resources I need to plan the way I did. Also, without the several hours of planning ahead of time we would have been unable to be as successful as we were with this Challenge. We also have a vehicle, which allowed me to choose the grocery store I would be purchasing items from instead of being limited to where I can shop due to proximity.
Another advantage I had was my background. I worked at Harvester's: The Community Food Network Nutrition Department, for six months while completing my master's in public health. Day in and day out, we focused on creating nutritious meals that could be done with items from a food bank or local food pantry. I am incredibly grateful for this Challenge and the things I have day in and day out that others might not have.
(Back to top)
---
Able to stay under the $3.96 per day until last night…
By: Kathy Colson, Lawrence-Douglas County Health Department 11/20/13 (Copied from the Health Department's Website)
I entered into this project to get a small sense of what people deal with when on a government assistance program. I aimed for four days and made it through three.
I was able to stay under the $3.96 per day until last night. Leaving choir practice last night, I had a sudden strong desire for chocolate (not on the budget). I spent $2.60 on a mini blizzard (and a small blizzard for spouse, which equaled $5.86). To think that I spent $2.60 for a chocolate fix! Then this morning as I was leaving for work I realized that I had not gotten my lunch ready so I grabbed my frozen meal. Preparing food takes time and I didn't take the time this morning.
So I didn't survive my intended time limit, but I feel I have a better appreciation for the struggles some families face on a regular basis.
---
Yesterday I never felt full..
By: Trish Unruh, Lawrence-Douglas County Health Department 11/20/13 (Copied from the Health Department's Website)
Today is better, but yesterday I never felt full. I have decided that the main ingredient in the whole wheat bread I bought for the "Food Stamp Challenge" is air. Despite having very little money to spend as one person on this Challenge, it is still easier to be doing it on my own. If my kids were still living at home obviously it would not hurt them to go without for a few days. But this Challenge has made me think about how I would feel as a mom if I did not have enough money for food or to see my children's disappointment when I had to give them macaroni or beans again because that was all we had.
The PBS program Frontline, aired a program on children in poverty one year ago. There were no experts with data or other adults. Just the children telling how they felt. It was a glimpse into a world I have never had to experience. I would encourage you to watch even a few minutes by clicking here >>> "Poor Kids."
When I was getting ready for work yesterday morning I heard some disturbing data about children living in poverty in Kansas from Kansas Action for Children. I could hardly believe the data they were quoting from their 2012 report. Close to 49 percent of children in Kansas receive free and reduced lunches and 18 percent of children less than 18 years old are living below 100 percent poverty.
---
IT HAS NOT BEEN EASY!
By: Karrey Britt, Lawrence-Douglas County Health Department 11/20/13 (Copied from the Health Department's Website)
I've spent under $3.96 per day on food in my first two days of the "Food Stamp Challenge," but IT HAS NOT BEEN EASY! I'm not going hungry but my food is very, very bland and I'm definitely NOT eating a well-balanced meal. I'm eating the same items over and over again:
• Breakfast — Oatmeal with dab of peanut butter and honey.
• Lunch — Peanut butter sandwiches on whole wheat bread with dab of honey.
• Snack — Banana
• Dinner — Spaghetti with sauce from a jar OR red beans and rice with a can of tomatoes and onion mixed in.
• Snack or side for lunch/dinner — Pear or Apple.
Typically, the spaghetti sauce would be made from scratch (thanks to my husband who is a great cook) with lots of veggies and mushrooms and it would be topped off with Parmesan cheese. This spaghetti, quite frankly, is awful and I get to eat it again tonight.
I was excited about the rice-and-bean mixture because it had tomatoes and an onion, but the finished product left a lot to be desired, and, guess what? Yep, I'm eating it again Thursday night.
As for beverages, I am drinking water and one cup of coffee in the morning with a sugar-free creamer. The creamer is $1.73 and the coffee at work is 10 cents per cup. So my luxury item is coffee and creamer. Typically, I would make my own latte or TWO with nonfat milk and sugar-free syrup at home, but that's over my budget. This morning, I had an interview about flu shots at KLWN with Hank Booth BEFORE heading into the office, so I was going to cheat and make a latte. I felt like I needed the caffeine to be "perky" for the interview, but the milk in the frig had expired. I guess someone wants me to stick to the Challenge!
While I'm counting down the days, hours … OK, minutes, until I can go back to eating what I want on Friday. I can't help but think often about those who don't have that choice.
I just visited with someone who is on food stamps. He said he's very grateful to have them. He works hard every day (I see it firsthand), but makes little money. He struggles to pay for utilities and rent and clothes. I know he's working to improve his circumstances (he just earned his GED) and I cheer him on every day. When I told him about the Challenge, he said, "Welcome to my World."
Indeed. Even, if it is for a short visit, or at least I hope. You never know what life might bring.
---
Day 3′s Lessons
By: Boog Highberger 11/20/13
DAY 3
Breakfast: Oatmeal with yogurt, $0.38
Lunch: Son of Tuna Salad Sandwich, Art's & Mary's chips, hardboiled egg: $2.12 (uh-oh!)
Supper: The Return of the Bride of Lentil Soup (2 cups), $1.54
Snack: The rest of yesterday's popcorn,  $0.30
Total: $4.34
Yipes! I'm over budget for the day (but still under for the week).
TODAY'S LESSON:
1. Trying to feed one person affordably and still have a varied diet can be a challenge.
---
Chicken on sale…
By: Jan Pool 11/20/13 (View her entire Youtube Channel)
---
Food Stamp Challenge, Day 1
By: Jeremy Farmer 11/20/13 (Copied from Jeremy's Blog: Hunger Games)
So, I started out with some chicken and rice from a bag.
This was 88 cents. It was cheap. I didn't have a lot of money to spend on my last (read: first) dinner. This was chicken fettucini in a bag. Just add water. Here's the good news: it only took 8 minutes. I was tired, after coming home from a long day, and the last thing I wanted to do was to spend an elaborate time planning and executing a recipe. I can't imagine what it's like for someone to work two jobs and to come home to a family…I get to pretty much set my own schedule, and I get to come home. No children. I have a dog (who will be hungry this week, because you can't get dog food on food stamps….) Of course, I'm kidding about that. She has food. But others don't have this luxury. I can hear it now. If you can't feed yourself, why do you feed a dog? I'm reminded of something someone told me one time who was poor and in need of assistance. They said, "I feel like a failure pretty much all of the time. Sometimes, it's nice to come home to someone that doesn't think you're as terrible as everyone else says you are." Kinda puts things in perspective, doesn't it? I digress again.
This meal was easy. But it's so bad for me. And I woke up today (Wednesday) and I had the worst headache in the world. There are ingredients in that bag that haven't been in my body for nearly 10 months.
The choices that people were faced with were pretty remarkable at the store. Most got some fresh produce and then went to beans and rice. I would love to have beans and rice…but my body can't digest beans. So, it reminded me about people who we serve through Just Food who have dietary restrictions. Once again. You're poor. You can just eat whatever we give you.
Where is the dignity in that?
It used to be that we asked how we should best help people. Now, we're asking the question of whether or not we should help them at all. Regardless of your feelings for why someone is in the predicament that they are in, or whether or not they got there because of their own choices, because life happened, or because poverty is so generational and cyclical, they don't need to stay there. Do you really think people deserve to go hungry? Shame on us if we do.
The healthy options are the expensive options. I told the reporter that people have to make choices daily about being healthy or being hungry. And they don't have to be mutually exclusive. The cheapest foods that are subsidized the most by the federal government are processed foods that are so bad for people.
I was chatting with my friend, Andrew, last night. He eats a can of soup each day for lunch. Campbell's Chunky Chicken Soup (or some variation of it). "It only contains 37% of the daily sodium intake," he exclaimed. "Yes," I said, "per serving." "Good call," he replied.
We are getting hungrier each day. And people are getting more food than they've ever been able to get. We're stuffing people and starving them. At the exact. Same. Time.
Lots to think about and process through. Thank you for putting up with my ramblings and sticking this week out with us.
---
My morning routine missed 2 very important steps today…
By: Jacob Schooler 11/20/13
My morning routine missed 2 very important steps today; I didn't make coffee for the bus ride to school or a lunch for between classes. Liz Keever and I started our SNAP challenge today, and we started it with a figuratively empty fridge. Most people were able to buy their groceries last night, but due to some occupational obligations we had to wait until today to spend our combined (23.76?) on the food we would be eating until Friday. Originally, when Liz told me about this challenge, I wanted us to go the full 5 days, but due to birthdays and other unavoidable commitments we had to cut it down to 3. So I started this morning and Liz this afternoon, and immediately I started realizing that this challenge was more than just a food stipend. I went to school sans caffeine with the hope that Liz and I could find time in our schedule to meet up after she had gone shopping. My first class is doing research in a lab, and the first thing I said to my fellow RAs and GTAs was that I would probably be cranky this week. I explained the challenge and quickly realized that I wasn't quite spreading awareness of a distressing issue more than showing off my own awareness to a problem too morose to deal with at 8 A.M. (They are graduate students. They know hunger, right?) As the hour approached 12, I called Liz to ask her if she would be able to bring me some ramen. She regretfully informed me that she barely had enough time to let out our dog and would not be able to bring any of the food she had bought. Thankfully she was under budget by approximately $3 so I used the 3 dollar bills I had stashed away in my wallet and went searching for my lunch. Due to previous research I knew I had a few options: I could buy a small bowl of chilli for…nope, too expensive. I could buy a sandwich…well shoot! An apple! Oh, I know me, that will just make me more hungry with not enough to get another item. I finally decided on a package of 2 pop-tarts that were $1 in a vending machine and a $1.80 12-oz cup of coffee that would hopefully perk me back up and ward off the belly grumbles. It seemed to do the trick, at least until about 5 o'clock when I started walking home. Liz and I got to our house about the same time and she showed me our bounty. We got to work immediately, doing our best to hack away at the chicken thighs that would be our protein for the three days. Liz explained how they were cheaper than the usual whole chicken we normally purchase, but after about an hour of carving friable portions I wondered if the extra dollars would have been worth it. We had a rice cooker steaming up 3 cups of rice, and as Liz chopped the veggies I started to wonder what we would have done if we didn't have a separate appliance for just the rice, or a comically large pan to cook the stir fry we were attempting in. Things that I had taken for granted: the freedom to buy a lunch whenever I needed to, the plentiful cooking items we had amassed over the years, or even the ability to add a little sriracha (that multi-purpose exquisite rooster sauce) to a plate that was palatable but still, just missing something. Once our challenge days are over we will all go back to eating what we want and living how we are used to, but others don't get that chance. Every day is a challenge for them, every day they make sacrifices. I get to make the choice to eat a slice of pizza or a cheese burger on Friday when a lot of people don't. I won't act like I know the solution, or even how to relate to someone who has to deal with food insecurity. All I hope is that the next few days will allow me to understand their plight, and hopefully be able to share my experience with enough people to get the word out. Maybe, someday, the right person will hear about this dire situation, and with the right power and know how, be able to give everyone the security of knowing that they will have enough food to go around.
Breakfast- Um, what is that again?
Lunch- 1 Pop-tart package and a 12 oz coffee
Dinner- Stir Fry with rice, chicken, bell peppers, canned tomatoes, and kale! doused with soy sauce (good thinking Liz!) and some salt & pepper
---
Day 2′s Lessons
By: Boog Highberger 11/20/13
DAY 2
Breakfast: Yogurt and granola, $0.63
Lunch: More split peas and rice (with a little Patak's chile relish!) and a hardboiled egg, $1.58
Supper: Lentil soup with tomato & carrot (1.5 cups), $1.16
Snack: (because I was under budget) Popcorn with butter & nutritional yeast (1/2 batch), $0.30
Total: $3.67
I could have had an apple with lunch today (now that we learned that federal law prohibits sales tax on food stamp purchases) but I didn't have time to go the store again. Even if I did, there is no place within my usual biking distance from home or work to buy fresh fruits or vegetables, so the cost of gas to get to the store would have been about the cost of an apple.
TODAY'S LESSONS:
1. Eating affordably takes a lot of extra time for planning and cooking.
2. Lack of transportation and lack of places to buy fresh produce can be a barrier to healthy eating.
---
Food Stamp Challenge! Day 1.5
By: Kendra Davis 11/20/13
Technically, my challenge started with Monday's dinner. I considered starting Monday morning, but felt like I needed a shopping trip to really get my mind focused on the task at hand. After shopping at Checkers for twice as long as I normally do (after checking and re-checking my prices and reorganizing my list), I headed home with my purchases to make dinner. My total spent came to $19.81, largely because I had a coupon from the Give Back program and was able to find discounted tortillas and bread! The total is more than allocated for one person, but there's a reason for that. My boyfriend and I live together; thus, we share meals and foodstuffs. While he has not fully committed to this challenge, we meal planned our dinners and he will absolutely be eating the leftovers. Because of this, I factored his $1.32 per meal for as many meals as I believed he would take part. Plus, I'm planning to use some items I already have at home – dried beans, spices, and the like – so I didn't need to purchase them at the store.
Monday night's dinner was Coconut Rice and Beans with Steamed Zucchini and Carrots. Originally, it was going to be Steamed Broccoli but broccoli was $2.19 a bunch. Can you believe that!? No way could I afford those prices. But zucchini at $0.79? Sold. Danny, my boyfriend, was gracious enough to eat the meal I prepared, but he seemed less than enthused. As a man who on the regular eats 3/4 a large Supreme pizza by himself, I suppose a bowl of rice and beans seemed a little meager. I enjoyed it, but let's be honest – if you put soy sauce on it and give me chopsticks, I'll eat pretty much anything. But I spent $1.75 on a can of coconut milk, so I was definitely going to eat it.
Total meal price: $4.90
Total price per serving: $0.82
Tuesday started out with two pieces of baguette toast, peanut butter, and coffee (price: $0.31). I know, I know, coffee is expensive. Especially since in recent years I've convinced myself that I deserve the "good" coffee, which is most definitely more than the stuff I bought with food stamps. I don't even think I could buy nicer coffee on food stamps, at least not the kind from Z's or Prima Tazza. What happens to my life if next week I woke up unable to work? Let go from my tenuous jobs? Injured with no health insurance? This would be my life, could be my life, in the span of a second. This is someone's life already. I'm just dropping in on it.
Tuesday lunch was leftover rice and beans. I love making more than I can eat. Leftovers are my favorite.
Total per serving: $0.82
Tuesday afternoon was rough. I managed to get a second cup of coffee from the grounds I'd used that morning, but I had to add some half and half to it in order to make it palatable. Normally, I'd just wander over to The Merc and grab a day-old cookie (only $0.60!) and a tiny coffee to see me through, but I don't think you can buy hot coffee with food stamps, something that made sense to me until I wanted a cup of hot coffee.
Total per serving: $0.15
Tuesday dinner was surprisingly delicious and filling. I'd kind of made it the cheat meal because we were going to the basketball game and wouldn't have much time. Quesdadillas, I decided, would be easy as pie. I'd found tortillas for $0.64 at Checkers and they had chicken on sale for $0.98/lb! When I got the chicken home, we realized it was a sad chicken, one that hadn't gotten to go outside and see the sun, one that was probably chained to twenty other chickens in a tiny box until it was ready to be processed. In an effort to make it less sad, we poached it in a mirepoix with some broth base (an expensive addition!) but only managed to change the taste marginally. We don't buy the most expensive meat, but we try to be aware of what we're purchasing. Mid-range suits us just fine and this is why. You can't taste the sadness in mid-range chicken. Anyway, we cut up an onion and some garlic and used the cheap "Cheesemelt" imitation cheese and the quesadillas were awesome! The onions were crunchy and flavorful and it turns out that imitation cheese melts even better than the real thing! Luckily, I don't have to make important decisions after this meal or stay awake very long because I don't think I could. It's sitting inside me like a brick. A delicious, cheesy brick, but nonetheless. Not something that promotes a productive lifestyle.
Total meal price: $3.00
Total per serving: $1.50
The pics are of Monday's dinner, Tuesday's breakfast, and making quesadillas!
---
Food Stamp Challenge, PreGame Thoughts
By: Jeremy Farmer 11/20/13 (Copied from Jeremy's Blog: Hunger Games)
(I started the challenge yesterday, but didn't get a chance to blog my thoughts before I had my first meal…so that's what this is. I'll update with dinner thoughts from last night soon)
I've gotta be up front here — I didn't do a lot of planning for the meals. But being able to watch people Monday night helped out so much. 
I learned what I could get, and what I couldn't get. I also learned that Tuesdays are 19 cent per pound banana days. I had the distinct advantage of knowing that, because of observing others on Monday who were experts.
I have to admit…I have gone into this experience being so busy with "knowing" what people have to deal with — but information is so much different than actually experiencing it for yourself. We think we know what it's like to be someone who is poor and in a world of trouble, but the truth is, we have no idea the desperation they feel, or the things that we have, that they don't have access to.
Case in point, there were so many people who typed out their menus, and had shopping lists with price sheets and how much everything was going to cost. We have clients who don't have the internet, or the luxury, nor the knowledge of being able to search google, or find recipe sites to get information. Then, factor in that many of these folks don't have fully stocked kitchens with all of the utensils, pots and pans, knives, that many of us have the luxury of having.
And the time…
It took me an hour and a half to shop. I have NEVER spent that long in the grocery store. I was walking around the store like a madman. I knew what I wanted for breakfast…I'm not much of a breakfast eater. I knew I'd be good with bananas. They're filled with potassium. Which is great for tall people. At least it was when I was growing…anyway, I digress.
Lunch, I knew I was going to be challenged, because I had lunch meetings scheduled this week. And I didn't want to ask people to buy my food, because many folks don't have that luxury either. So, I went with carrots and yogurt. Full disclosure. It would have been cheaper to buy plain yogurt in bulk…but, quite frankly, I don't like that kind of yogurt, and probably wouldn't eat it. To eat healthy, but also preference, costs money. Should people be penalized off of the premise that they're poor and should eat anything they're given? Where is the dignity in that? What we really mean by that statement is: you shouldn't be poor, so to punish you for being poor, you have to eat food that you don't like. I'll expand more on this in a little bit as well.
Dinner. Oh, dinner. For those of you that don't know…not to brag, but I've lost quite a significant amount of weight recently. How have I done that? Well, the (near) daily trips for fast food for lunch have stopped. I eat half my meals. And I bike. A lot. This means that I haven't eaten processed, canned, boxed meals or dinners in…I can't even remember how long. I have had the occasional Taco Johns (Taco Tuesdays are right after City Commission meetings…), but let's not talk about that.
Dinners for me were going to be:
Tacos – hamburger and taco seasoning, with tortillas. No cheese. No salsa. No lettuce. Plain tacos.
Baked potato – no butter. No cheese. No chives. Just a baked potato.
Spaghetti – whole grain noodles (hooray) with canned spaghetti sauce and some hamburger.
Chicken and rice bag. Enough said.
There are so many things I want to say. So many thoughts I have. So much that breaks my heart. So much that makes me angry about all of this. I'll try to work them in, as I talk about what I eat. Thank you for joining me on this journey.
---
Our third day of the Food Stamp Challenge…
By: Jan Pool 11/19/13 (View her entire Youtube Channel)
---
The cashier said, "That comes to $16.50."
By: Chris Tilden, Lawrence-Douglas County Health Department 11/19/13 (Copied from the Health Department's Website)
On Day 1 of the "Food Stamp Challenge," it had already become clear to me how limited SNAP benefits are in helping put food on the table.
I started out the day with a bowl of oatmeal with a sprinkle of brown sugar, a few raisins and a splash of milk. I wasn't sure exactly what it cost, so I went online to see if I could find an estimate, and found an estimate of $1 per bowl. For lunch I had a peanut butter sandwich (literally two pieces of bread and peanut butter) and an apple. Online estimates for a peanut butter and jelly sandwich are about 40 cents.  Without the jelly I'm probably a few cents under that, but for the sake of argument I'll say lunch cost me $1 between the sandwich and apple. Dinner was pizza made with a piece of flatbread, tomato sauce, half a sautéed onion, clove of garlic and mozzarella cheese, and a small side salad.  These items in the grocery store cost me $8.51 (I'll talk more about shopping in another blog). This comes to $1.70 a meal for five nights.   So on Day One I made it. I ate for $3.70, just shy of the $3.96 daily SNAP allotment for an individual.  It wasn't easy, and I'm now faced with the reality of eating the same very basic meals every day for the five days I am participating in the challenge.  A couple of days I'll have to even eat less than today. I couldn't afford to buy enough apples to have one every day at lunch, so a couple of days I will have only my sandwich, or I'll split the apple and have one-half one day and one-half the next. That's really eye-opening.   After one day, I realize more than ever before how important the SNAP program is and how limited it is. I didn't go to bed hungry, but I was VERY challenged to eat the type of meals that are known to contribute to health, meals with generous portions of fruits and vegetables.  I even had to put back fruit when I went shopping, because I couldn't afford it. More on that in my next blog …
… On Monday night, I joined Just Food staff members and a number of other participants in this week's "Food Stamp Challenge" to buy groceries for the next four days on just under $16, the equivalent of the cash benefit available through the federal Supplemental Nutrition Assistance Program.
Entering Checkers I had done some pre-planning. I had a good idea of what I would buy and what it would cost.  But the limited benefits of the SNAP program were put into a little sharper focus in the checkout line when the cashier said, "That comes to $16.50." Despite my pre-planning and the calculating going on in my head as I shopped, I had exceeded my $15.84 budget. I had to tell her I couldn't afford everything and had to put two apples back. An apple a day might keep the doctor away, but I failed to plan well enough to ensure that I could have that apple every day. Sure, I could have given up something else, but my options were pretty limited. With the small amount of food I was able to buy, I imagine I will be going to bed a little hungry for the next couple of nights.  However, I will do so with the comfort of knowing that I have a great job, a good roof over my head, and ongoing means to eat in a way that helps me maintain good health. For me, in four days this current challenge will be over.
The ongoing challenge, for me, will be to make sure I am part of an ongoing community dialogue to help ensure that all residents in our community have the opportunity to lead healthy lives. We ALL deserve to have that apple each day. It's something worth striving for.
---
$15.84 does not go very far.
By: Trish Unruh, Lawrence-Douglas County Health Department 11/19/13 (Copied from the Health Department's Website)
Even with menu planning and low-cost recipes, $15.84 does not go very far.
I am a planner especially when it comes to food. Before I start my grocery list I check on the weekly grocery store ads to take advantage of sales and I stock up when there is a good deal on staple foods. So I felt like I was up for the "Food Stamp Challenge."
I checked out the ads and then went to the best resource I could think of, the SNAP website. On the website, I found low-cost recipes with the cost per serving and the cost for the whole recipe. I also used their recipe finder to plug in the foods I found on sale for recipes. But I still found myself not even half way through the grocery store wondering how I was going to be able to afford even the small number of items on my list. The most expense item I bought was $2.04 for a half gallon of milk. I quickly decided chicken nor beef would not be on the menu because they were not on sale. Some of my favorite recipes had too many ingredients that I couldn't afford.
As I shopped, I thought about my WIC clients and I'm so glad they have another resource for food. Fortunately for pregnant, breastfeeding and postpartum women and children up to age 5, they can sign up for the Supplemental Nutrition Program for Women, Infants and Children (WIC) even if they receive food stamps or SNAP. Women that are exclusively breastfeeding receive the largest food package, which includes: milk, eggs, cheese, iron fortified cereals, tuna and/or salmon, whole grains and a $10 check to buy fruits and vegetables.
---
An hour shopping for 11 items…
By: Karrey Britt, Lawrence-Douglas County Health Department 11/19/13 (Copied from the Health Department's Website)
My shopping trip to buy four days worth of groceries was eye-opening.
I usually do the grocery shopping for my husband and I, so I had a pretty good idea of what items may cost, but I only had $15.84 to spend and my goal was to leave with $2 or $3 in case I needed something.
I went with a list of items that I hoped to buy and then planned to make adjustments while at the store. I spent an hour shopping for 11 items — 11! Eating healthy is important to me and I'm a label reader, so I was reading the labels and choosing between healthier OR less expensive items. That's tough! For example, should I buy a cheaper spaghetti sauce with corn syrup and other additives or a more expensive sauce with healthier items? I picked a sauce that was somewhere in the middle. I also found myself making choices between items: an onion or celery? I went with the onion — it's heart healthy and will add a lot of flavor to the beans and rice.
While checking out, the cashier asked, "Are these honeycrisp apples?" I quickly replied, "No. They're the ones on sale." That led to a discussion about the Food Stamp Challenge.
I ended up spending $13.05 on: whole wheat bread, brown rice, red beans, peanut butter, spaghetti sauce, whole wheat spaghetti, oatmeal, two apples, two pears, five bananas and one yellow onion. What was on my list that I didn't get: Lettuce, celery or carrots and a sweet potato. I don't have enough veggies. I still plan to pick up a can of tomatoes to add to my rice and beans. I also need to figure in the price of honey. I have a big bottle at home and will use a dab in my oatmeal and on my peanut butter sandwiches. As for beverages, I plan to drink water and one cup of coffee in the morning with a sugar-free creamer. The creamer is $1.73 and the coffee at work is 10 cents per cup. So my luxury item is coffee with creamer.
---
Food Stamp Challenge Day 2: You Have to Have Money to Save Money
By: Marilyn Hull 11/19/13 (Copied from Wellcommons Entry)
Note: Food insecurity is a complex issue. I know that the Food Stamp Challenge in no way fully simulates the real world situations of SNAP participants. Still, I am trying to live on $3.96/day (the typical SNAP allotment) for five days as a learning experience.
When you have only $19.80 in your pocket to feed yourself for five days, you notice that the best deals at grocery stores go to people who have way more money than you do.
Take this Dillons ad for example. You can get ten loaves of Dillons sandwich bread for $10. You can get four dozen eggs for $5. The total cost, with tax, to take advantage of these deals would be $16.35.
This would be great if I had, say, $100 to spend and a large freezer at home to pack with nine loaves of bread. But with only $19.80 to spend, there's no way I'm going to concentrate 80% of my purchasing power in two items. So if I shop at Dillons, I'm stuck paying the higher unit cost for one loaf of bread and one dozen eggs.
Next time you go to the grocery store, take note of all of the 2-fer's and other quantity discounts. The great deals you get excited about may be out of reach to those who need them the most.
---
SNAP Challenge, Day Two #JFSnapChallenge
By: Kris Adair 11/19/13 (Copied from Kris's blog: In the Kitchen with Audrey)
There is more than a little irony going on here. The girls and I shopped with many of our fellow SNAP Challengers at Checkers Foods last night. The local paper, The Lawrence Journal World, had a couple of reporters and a photographer on hand to write about the story. One reporter asked to follow us during our shopping trip. He was nice and asked a lot of questions while the girls ran around and sometimes helped me shop for food. The photographer got a couple of shots of me sharing my menu and price book. It was a good event. There were City Commissioners, County Commissioners and more than a few prominent community members there to shop as well. We were in good company.
We purchased our groceries and said goodbye to the nice reporter, telling him we had to rush Audrey to her piano lessons. I got in my 2013 Mazda wearing my new Gap scarf and my nice Zappos shoes feeling more than a little silly. After dropping Audrey at piano lessons Mo and I went to Target to get her new snow boots and face scrub for me. I really started to feel like a hypocrite then.
I spent a great deal of time planning our menu for the week, shopping for the best prices, and setting aside time to make from scratch what I could not afford to buy pre-made. I looked on Pinterest, hit a few websites for price comparisons and stopped by the library to check out more cookbooks.
Time may not be something a single working parent with small children has to get the most nutritious food for the limited funds available to them. And money is certainly something they do not have to throw around. They do not have the luxury of taking a five day challenge to see what it is like to be food insecure. At the end of our challenge we can go back to eating what ever I feel like purchasing. And my girls can have the expensive box of clementines they wanted at Checkers last night. I feel like a hypocrite.
Day one, breakfast
Day one, lunch (not planned)
Day one, rice and bean prep (future use)
Day one, snack (add chocolate soy milk)
Day one, mirepoix
Day one dinner
As you can see from the photos day one went well. You can check out our
original menu
to see how close we were to our plan. Maurene refused to entertain the idea of tortilla, banana and peanut butter lunch and asked for cinnamon toast and ants on a log. I relented. I had the banana, tortilla, and peanut butter. I believe Maurene also ate a banana right before lunch. She is obsessed. I took that into consideration when planning our menu. Audrey likes cinnamon apples so that is why that was our only other fruit purchase.
Day one dinner turned into spaghetti, red sauce, mashed cauliflower, and peas. It was easy and well received. The peas and cauliflower were frozen and cooked in the microwave. I dumped the cauliflower in the food processor with the water it cooked in and some soy butter to make "cloud fluff." The red sauce was mostly from a jar with the addition of the mirepoix, garlic and navy beans. If you do not see a beverage we drank water.
The girls also had another pumpkin muffin after dinner. That would have been the end of our day had their father not come home bringing a frozen chocolate treat on a stick. He knows this is our challenge week and felt the girls needed it anyway. There was nothing I could do, they had them in their hands before I knew what was happening. Check back tomorrow to see how it continues.
---
SNAP Challenge Day One #JFSnapChallenge
By: Kris Adair 11/18/13 (Copied from Kris's blog: In the Kitchen with Audrey)
There has been a lot of work going on behind the scenes the last few weeks to get ready for our SNAP Challenge. Audrey, Maurene and I signed up to live on less than $4 a day each for five days. We planned our menu carefully and have completed most of our grocery shopping. Yesterday we started on a little prep work to make sure our week went as well as could be expected. Over the last weeks I have been talking to my girls about what we are doing and why but I still expect there to be a few bumps in the road. They are five- and four-years-old, a deeper understanding of social policies of our federal government are not within their grasp yet. I just hope we are able to follow our plan and finish our goal of five days. I want to share a little of what we did to get ready for this challenge as well as our menu. It might enlighten you to the struggles of the food insecure. And I also encourage you to read "Those People" on Scarymommy.com. It is a story that will change the way you think when it comes to the food insecure. Here is our planned menu. I warn you things almost always seem to fluctuate around our house and we never seem to really stick to a menu. That said, we have fewer groceries to work with this time and no eating out options. Monday Breakfast – Pumpkin Muffins and hot cocoa Lunch – Tortilla, banana, and peanut butter Snacks – Pumpkin Bread Dinner – Mushroom Alfredo and peas
Tuesday Breakfast – Chocolate, Peanut Butter Oatmeal and orange juice Lunch – Carrots, celery, apples, peanut butter and ABC Soup Snacks – Chocolate Muffins Dinner – African Peanut Stew and cornbread Wednesday Breakfast – Rice Pudding and hot cocoa Lunch – PB&J and apples Snacks – Black bean brownies Dinner – Spaghetti, red sauce, mashed cauliflower and peas Thursday Breakfast – Fruit, leftover cornbread and chocolate soymilk Lunch – Pumpkin Bread, celery and peanut butter Snacks – Rice Pudding Dinner – Black Bean Soup, rice and corn Friday Breakfast – Pancakes, applesauce and orange juice Lunch – Rice, beans, and rot-tel Snacks – Black Bean Brownies Dinner – Chili, cornbread and peas A few things you might notice about our menu include the lack of coffee and animal products. I reduced both several months back. I still keep a little coffee and tea in the house but do not need it to wake up. The meat product reduction was a decision I made a few months back after learning I was pre-diabetic. Normal weeks I will purchase a few expensive animal product alternatives to placate those in the house who do not care for my eating style but this week we did not have it in our budget. I also will typically get a half-gallon of cow milk for the girls to drink as they are not as fond of soy milk. This week I decided to utilize our purchase of cocoa powder to make the soy milk more palatable. I will report the results.
Be sure to follow with us the rest of the week as I share the previous day's actual menu and any struggles we have had on the way.
---
Today is the first day of my participation…
By: Chris Tilden, Lawrence-Douglas County Health Department 11/18/13 (Copied from the Health Department's Website)
Today is the first day of my participation in the Food Stamp Challenge. I am participating to support efforts in our community to promote access to healthy foods for all of our residents.
There has already been considerable discussion about the "validity" of the Challenge. For me that's not the point. Just Food staff and supporters know SNAP (Supplemental Nutrition Assistance Program) alone can't address the nutritional needs of those it serves. If they did believe SNAP was a comprehensive solution they wouldn't be in business. To me, the Challenge is simply an opportunity to recognize the importance of eating well to one's health and well-being and to bring attention to the fact that for many people eating well within their means is not easy. It is important to remember that this program primarily supports some of our most at-risk neighbors. About three quarters of SNAP recipients are children, adults over the age of 60, or individuals who have disabilities.  
I also want to point out that I don't believe SNAP is a political issue.  There are politicians and citizens alike on both sides of the aisle that support SNAP.  They may not agree on the size or structure of the program, but I believe it is a small minority of people that don't see value in the program. One of the reasons for nearly universal support of SNAP is that the program benefits not only those at-risk, but society as a whole. Economic studies have almost universally concluded that SNAP is an effective means of stimulating economic activity. The Congressional Budget office has indicated that SNAP is one of the most effective spending/tax options for boosting economic growth during weak economic times.  I know the food budget of most SNAP recipients is not limited to SNAP benefits alone.  Those of us participating in the challenge will quickly find, I think, that it would be nearly impossible to eat a healthy diet, including recommended servings of fruits and vegetables, day-in and day-out on a SNAP budget. And that is what this is really about…not to prove anything, but simply to bring awareness to the issue of hunger. I appreciate the work of all the staff and volunteers involved in emergency food assistance programs in our community, and I'm pleased to be able to show my support by participating for five days in the Food Stamp Challenge.
---
Participating in the Food Stamp Challenge to help raise awareness…
By: Karrey Britt, Lawrence-Douglas County Health Department 11/18/13 (Copied from the Health Department's Website)
I am participating in the Food Stamp Challenge to help raise awareness about hunger and homelessness. It's also a good opportunity to try to put myself in someone else's shoes — even if only for four days.
It's only Day 1 of my participation in the Challenge and I already know that I'm going to walk away with a better understanding of how difficult it is to eat healthy on a limited budget and a greater appreciation for what I have.
Thanksgiving will have a whole new meaning this year and I'm sure this Challenge will be a topic of discussion at the dinner table. It already has sparked many discussions among friends, family and colleagues, and that's a good thing.
Before I joined the Health Department as communications coordinator one year ago, I worked at the Lawrence Journal-World as the health reporter. I often covered stories about the Just Food pantry in Douglas County. I remember spending the day there Feb. 25, 2011, and talking with clients. I won't soon forget the case manager who had a baby and stopped by for bread to go with peanut butter. They were down to a few canned meats and peanut butter. She was glad to be breastfeeding her baby because she couldn't afford formula. To this day, I remember her story.
I also remember how difficult it would be to get people to "go on record" about using the food pantry. They didn't want to because of the stigma associated with tapping into such resources. I recently visited with a Health Department client who is on food stamps. She receives $120 per month or roughly $3.87 per day. She talked about hiding her EBT (electric benefit transfer) card, which carries the food stamp funding, deep in her wallet because she's only told a handful of people that's she's on food stamps. She tries to use the self-checkout lanes to avoid other customers. There have been times when she has needed to use a food pantry, but is too embarrassed to seek assistance.
My hope is that not only do we raise awareness about the hunger and homelessness, but also shed light on the social and psychological aspects that residents face when they are in poverty.
---
Food Stamp Challenge Day 1: When Unexpected Guests Arrive Hungry
By: Marilyn Hull 11/18/13 (Copied from Wellcommons Entry)
Note: Food insecurity is a complex issue. I know that the Food Stamp Challenge in no way fully simulates the real world situations of SNAP participants. Still, I am trying to live on $3.96/day (the typical SNAP allotment) for five days as a learning experience.
The first day of my Food Stamp Challenge was going great until my daughter texted me that she was coming over to watch the second half of the KU football game.
Don't get me wrong, I love it when my adult children drop by for a visit. LOVE. IT. Generally, within the first fifteen minutes of conversation, I ask "Are you hungry?" That's what moms do.
And in the case of my daughter Maggie, a professional athlete who maintains a strenuous conditioning regimen, the answer is typically, "Sure. I could eat." And that's exactly what she said.
The problem was, in my methodical planning for the Food Stamp Challenge, I had not factored in the possibility that I might have to share my groceries with an unexpected guest. I had bought exactly what I thought I would need to feed myself for five days.
This realization instantly gave me a feeling of empathy for parents who are faced with the possibility of not having enough food to go around. I've heard that parents will skip meals so their kids can eat. I realized that I would do that too, in a heartbeat.
As it turned out, I didn't have to. I had all sorts of food around the house that was not part of my Food Stamp Challenge stockpile, and I gave her some of that. Another reminder that what I am engaged in is merely a simulation.
Feeding your young is powerfully instinctual. I can only imagine how damaging it is to a parent's self worth to not be able to put food on the table. It would be devastating for me.
---
Day One Experience
By: Beth Rowlands 11/18/13
Woke up in a panic! Did not prepare yesterday as I had planned. Carbs for breakfast and cheated when I found a leftover cookie from an office potluck I missed last week. Massive headache by noon. Ate a peanut butter sandwich on stale bread, a few carrots and some expired sting cheese. Saving my apple for dinner. Knowing that without being prepared I'm never going to succeed on less than $4 per day, I've started scouring my surroundings for discarded food and then remembering I can't do that either. This sucks!
---
Today's Lessons
By: Boog Highberger 11/18/13
DAY 1
Breakfast– Oatmeal with honey, $0.41
Lunch– Tuna salad sandwich ($1.46) and 1 oz. Art's & Mary's potato chips ($0.33), total $1.79
Supper– Yellow split peas with green pepper and carrot, served with brown rice, 2 cups total, $1.08
Total for the day: $3.28
I was worried when I learned that our daily limit included the 8.7% local sales tax, which (by my calculation) leaves $3.64 per person for food. Fortunately, my split peas & rice came out cheaper than I expected. I could have had an apple with lunch after all– just barely.
Today's lessons:
1. Honey is a luxury.
2. Sales tax on food can be an enormous burden on people with limited incomes and it should be eliminated.
---
"We have accepted the Food Stamp Challenge"
By: Jan Pool 11/17/13 (Jan is posting several times a day: View her entire Youtube Channel)
---
Ways to share your experience during the Food Stamp Challenge:
Facebook: Tag Us @ Just Food Twitter: Use hashtag #JFSnapChallenge or tag us @justfoodkansas Blog: When you want to submit a blog post, you can email lcharles@justfoodks.org the text you'd like to include, and I will add it to our website as soon as I receive it.
More questions about the Food Stamp Challenge? Call Leah Charles @ Just Food – 785.856.7030 ex. 7633